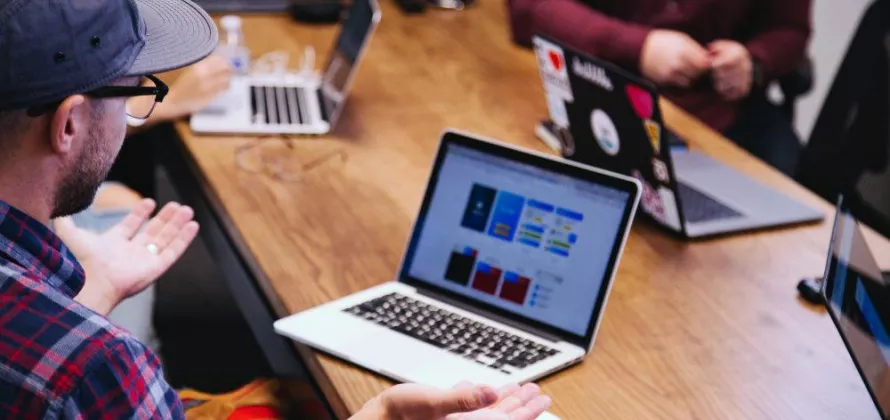 7 Questions to Ask a Potential Salesforce Managed Services Provider
Not Getting the Full Value Out of Your Salesforce Platform?
Are you tired of spending countless hours trying to keep your Salesforce platform operating at peak effectiveness? Are you struggling to keep up with the semi-annual updates and all your internally requested platform customizations? Wouldn't you rather let someone else worry about data security, process automation, user adoption, and system upgrades so you can focus on your core business? If you answered yes to any of these questions, Salesforce Managed Services could be a great solution for you. But how do you find a reputable, experienced firm that you can trust with your valuable customer data?

Based on our extensive experience providing Salesforce Managed Services for clients, we developed a list of questions to help you to quickly detect the scammers and we unpack why each is important as well.
Do you primarily specialize in Salesforce and related products? If so, which products?


As Salesforce has grown into the #1 Customer Success platform, many consulting firms have added it to their roster simply to appear more well-rounded or to reassure existing customers. The reality is that these firms typically have minimal Salesforce resources on staff and even fewer Salesforce-certified resources. A shop that specializes in Salesforce will have multiple certified experts in a variety of products (Sales Cloud, Service Cloud, Marketing Cloud, Experience Cloud, etc.) with dozens of projects under their belts. These firms will be happy to show you case studies and quickly discuss a top-level approach to your situation early on.



Who will be on my Salesforce Managed Services team?


Typically, a team is led by an Engagement Manager who is a dedicated Salesforce Consultant in their own right. As your day-to-day contact, they will be responsible for your success and will bring in various certified Product Consultants or Specialists, Solutions Architects, Developers, Technical Architects, Salesforce Admins, and others based on your specific needs.



Will my Managed Services team have experience in my industry and are any of them Salesforce alumni?


The best Salesforce team for you will not only understand how Salesforce works but they will also have experience in your industry. This is especially true of your Engagement Manager who should be someone who deeply understands Salesforce AND your industry. This experience allows them to add value to every interaction and quickly understand what makes your organization unique. Then, as they become more familiar with your business model, they'll be ready and able to appropriately advise you on everything from best practices in your industry and the proper license mix to whether you should build or buy, and other questions that could result in you not spending thousands (or even tens of thousands) of dollars each year.

Additionally, the Salesforce ecosystem is a very close and communicative network. So, having Salesforce alumni on your team, who can leverage their personal networks of internal Salesforce resources, will help to resolve any technical issues even more efficiently.



Can your firm meet my service expectations?


Before asking this question, you should first determine what EXACTLY your expectations are. Do you expect efficient, but nameless service or are you looking to be on a first name basis with your Engagement Manager and even some of your Salesforce Managed Services Team members? Does your organization need a "by-the-book" team with high levels of documentation and formal processes or a more agile team with an entrepreneurial, bootstrap approach? Deciding what you need before asking a potential partner what they provide will be ensure both sides are aligned about what type of service you expect and enable the highest levels or service and ROI.



How accessible will my Salesforce Managed Services Team be?


Based on your clearly communicated expectations, what are the available service levels in the firm's Service Level Agreement (SLA). Do you expect expert support 24/7/365 from a US-based team or are you ok to talk to glorified order takers off-shore who just pass your ticket down the line? Can you even speak to a real person, or will you be mired in purely automated systems? It is key for your partner team to operate either in your time zone or across multiple time zones so you can more readily access an expert to discuss solutions based on your business' specific strategy, tech stack, and goals.



What capabilities can your Salesforce Managed Services Team provide beyond time and materials?


Most Salesforce Managed Services agreements begin as a simple pre-paid block of hours. But inquire about any additional services/benefits beyond direct technical support that could add value to your Salesforce platform or technology strategy. Should you expect the firm to simply fulfill your requests or are they able to discuss best practices and consult on long term strategy? Do they have the capabilities to conduct software training or assist with change management within your organization? Do they manage backups and data security? These questions will allow you to compare apples to apples and make the best decision between potential Salesforce partners.



Do they offer clear and competitive service pricing?


To get a deal done, many Salesforce consultants will bait-and-switch clients with low hourly rates for less-experienced resources on Managed Services work then classify any additional services to be "out-of-scope" or "project work" that must be billed at a higher, expert level rate. Reputable Salesforce Managed Services Teams will provide you with itemized outlines of costs/hours expected before work begins so you have a clear picture of the value provided. If you ask for this level of detail in writing and all you get in response is handwaving or stammering, run.
RELATED: Key Considerations for Selecting a Salesforce-Certified Managed Services Provider

RELATED: What Are the Main Benefits of a Salesforce Managed Services Team?
Start Getting More Value Out of Salesforce with Your Own Salesforce Managed Services Team!
CloudBlazer provides Salesforce Managed Services to customize, optimize, maintain, and evolve their Salesforce platform and products. From Sales Cloud and Service Cloud to Experience Cloud and Marketing Cloud, our teams provide strategic and tactical support for clients primarily in the Manufacturing, Financial Services, and Automotive Industries. Plus, unlike many Managed Services providers, we don't charge our Managed Services clients up-front retainer or monthly fees. You only pay for the work when we do it.
To learn more about how our Salesforce Managed Services can help you make the most of your investment in Salesforce, contact us today for a FREE, no-obligation consultation.